World Youth Skills Day – 2022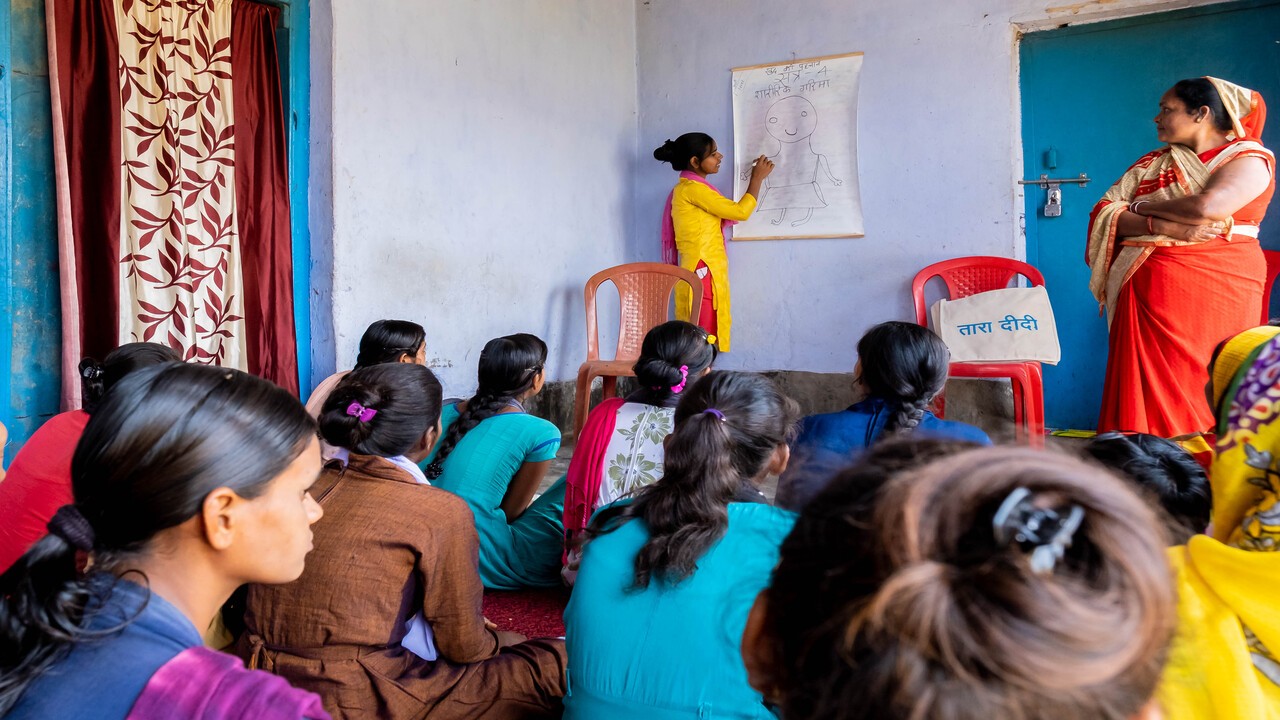 Girls gear up to join the workforce- Learnings from TARA
'World youth skills day' is the day to call for attention for equipping young people with skills for employment, decent work and entrepreneurship. India with its bulging youth population is rightly placed to enjoy the demographic dividend. However, its essential that young people hold the right skills to be part of the workforce and contribute to country's economic progress. As we march into the 9th annual celebration of the day on 15th of July 2022, the theme of this year's celebration is- ''Transforming Youth Skills for Future''.
This piece is an attempt to reflect upon where we stand and what needs to be done to achieve the big target.
5th round of National Family Health Survey (NFHS-5) informs that 41.3 % of the rural female population never attended school. According to World Bank estimates, India has one of the lowest female labour force participation rates in the world. Less than a third of women – defined in the report as 15 or older – are working or actively looking for a job. The female labour participation rate in India had fallen to 19.2 % in 2021 as compared to 20.3% in 2019 from more than 30% in 2006, according to World Bank estimates. Considering the above, its essential to look for the underlying causes of these situations.
PCI India conducted a situational analysis to understand the reasons of poor workforce participation among women in Bihar.
Some of the critical gaps are:
– Limited awareness about employment related opportunities to women and girls, especially in rural areas.
– Limited access to quality education
– Lack of having the right skills and competencies required for market absorption
– Limited reach to the access points for skilling or understanding opportunities
– Skills to adapt or sharpen the competencies to remain fit to the market requirements
PCI India implemented TARA – a model for adolescent girls' empowerment in Bihar. 'Transformative Action for Rural Adolescent Girls' (TARA) was designed with an objective of strengthening the overall well-being and self-reliance of rural adolescent girls so that they are better prepared to enter the workforce with strong life skills thereby creating next generation leaders of change. The model was successfully piloted in Nokha & Sanjhauli blocks of Rohtas district, Bihar and mobilized 1205 adolescent girls in 110 Adolescent Groups (AGs). The project's theory of change was based on the premise that imparting life skills training through customised P.A.C.E. (Personal advancement and career enhancement) curriculum to adolescent girls would drive them towards prosperity and growth.
The adolescent girls were trained on various aspects of life such as development of agency through decision-making, communication, negotiation, improving employability, and improved knowledge of health and nutrition (HN) behaviours and practices. There were 16 sessions transacted in a period of 18 months.
The employability sessions focussed on enhancing their resourcefulness, employability and entrepreneurship skills. The sessions on employability helped the adolescent girls in their aspiration mapping and peer learning for future preparations.
Dedicated training and skills upgradation sessions for entrepreneurship development from Rural Self Employment Training Institute (RSETI- an initiative of the Ministry of Rural Development) were provided to the TARA girls. Girls were linked with the MKUY (Mukhyamantri Kanya Uthhan Yojna) to receive the benefits of the scheme.
TARA clubs were formed by a group of 20-25 members from a cluster of TARA groups. TARA clubs facilitated girls to connect with the outside world by providing them access to internet, and, through exposure to various options for education, career, skill development and workforce participation. The clubs linked these girls with different Government programs, and schemes – specifically for skill development, entrepreneurship, and employment.
The project resulted in holistic development of the adolescent girls and essentially led to breaking the cycle of unawareness among them in terms of employment opportunities and enabled them to upskill themselves for future aspirations.
A two-arm cluster randomised controlled design along with two rounds of representative quantitative cross-sectional surveys with adolescent girls between 15-19 years of age, gave the measurement of the net effect of the intervention using difference-in-difference (DID) method.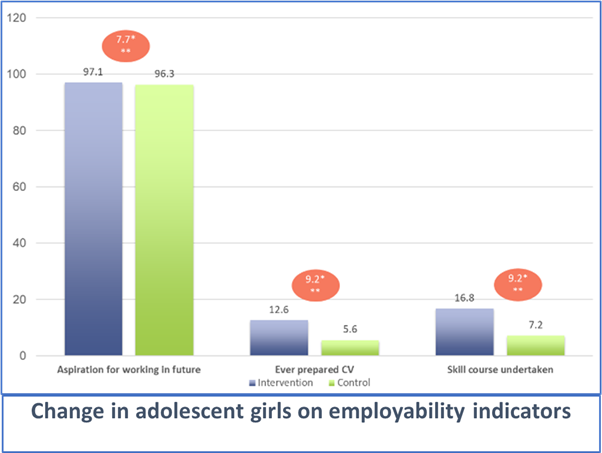 TARA model achieved a significant improvement in promoting the girls to aspire for joining workforce in future. This exhibits their confidence and boosted self-esteem for economic advancement, leading to increased participation in CV preparations and undertaking of skill courses.
TARA tells us:
– Focused trainings on life skills along with employability builds future aspirations of rural youths and adolescents, guiding their path to employment opportunities.
– Meaningful life skills can encourage girls to break the barriers of illiteracy or semi-literacy as a hindrance to their future employment.
TARA recommendations:
– Combination of life skills and skilling for economic advancements is best model for enhancing self-esteem of girls
– Access to opportunities is essential and media of dissemination needs to be widened (inclusion of digital modes); specially aligned to rural Indian
population
– Need for ease in the access to skilling opportunities for rural girls
– Rural skilling programmes should be as per the market requirements, rather than being limited to present traditional and outdated skill training
activities
– Skilling and entrepreneurship should be a part of curriculum in schools
– Government should focus and target for availability of economic opportunities in rural areas for girls instead of them reluctantly migrating to urban
areas in seek of employment
Authors: Irina Sinha and Tushar Kumar, PCI India