The Story of Ekta: Program Recipient As A Child, Staff Member As A Grown-up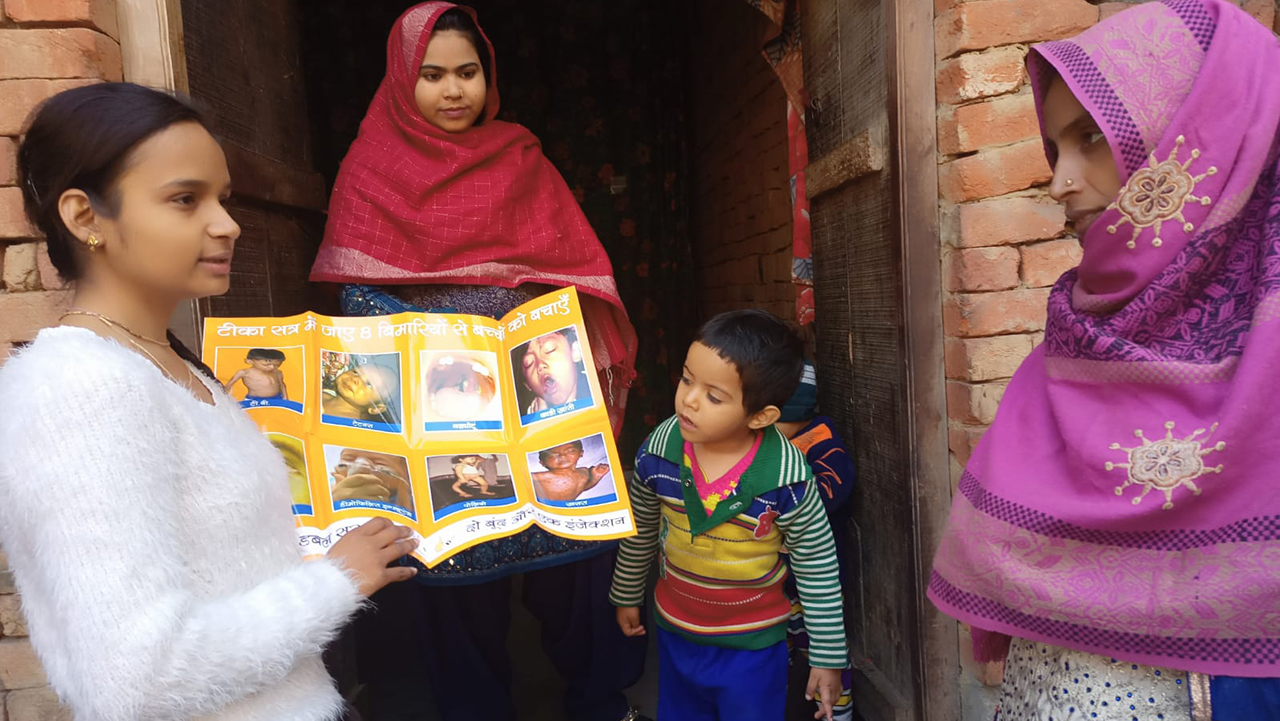 Since 2001, PCI, in partnership with local NGO partners, has been supporting the state government in mobilizing under-five children for receiving the Oral Polio Vaccine (OPV) and basic childhood immunization through various social mobilization and communication activities in 22 blocks of Western Uttar Pradesh under the USAID-funded CORE Group Polio Project (CGPP, now CORE Group Partners Project).
CGPP came up with a slew of school-based activities alongside their community intervention. One such activity was 'Masti Ki Kaksha' (fun class) where 8-10 students studying in classes 3-5 are selected to be a 'Masti Ke Doot' or ambassador of change. These tiny ambassadors promote handwashing and sanitation behaviours among other students. On Polio Day, these children wear a cap and an apron and make multiple trips to households with a child below 5 years and nudge their mothers/caregivers to bring them to the vaccination booths. Since they call out the target families, their group is called 'Bulawa Toli' (Calling Team).
Back in 2008, Reena, Kiran, and Murlidhar – Community Mobilization Coordinators (CMCs) -visited the Sunshine Public School at Baghra village, Muzaffarnagar. The CMCs went to the school to conduct the 'Masti Ki Kaksha' where they looked for 8-10 children to form a Bulawa Toli as the Polio Sunday was approaching. They asked the students who wanted to be part of the Toli to raise their hands. One of the raised hands was of Ekta – a girl in 3rd standard.
From then onwards, Ekta became part of every polio campaign and mobilized eligible children from every corner of the village along with other team members. She became a permanent member of Masti Ke Doot and never missed a single Masti Ki Kaksha until she graduated from the upper primary.
In 2013, she got admission into Sarvodaya Kanya Inter College in 9th standard. Though PCI did not list this college for intervention, she was still in touch with Murlidhar, who by then, had become a Block Mobilization Coordinator. Murlidhar could not turn down Ekta's request and visited her college to educate the students on polio and child immunization in the morning assembly. As time passed, Ekta's passion to educate the community and her peers on health issues grew. She participated in many competitions and seminars and continued her support to PCI field team in mobilizing parents during Routine Immunization sessions, Supplementary Immunization, and vaccination during the COVID-19 pandemic.
In 2021, Ekta completed her B. Tech. with good grades. Although she studied technology, her passion has always been to work for the community as she was inspired by two female CMCs – Kiran and Reena – in her childhood. Ekta often asked the CGPP staff for a suitable opportunity to work on the project. When CGPP received a COVID-19 grant in 2022, Jan Kalyan Samiti (JKS) – an NGO partner of PCI – advertised for the position of Mobilization Mitra (MM). Ekta faced the interview and got selected. JKS posted her in a high-priority sub-centre in village Sanjhak in block Baghra (Muzaffarnagar).
Ekta is now working with full dedication to accelerate immunization coverage in Sanjhak. The pandemic made a lot of children miss their childhood vaccinations in Sanjhak, making it one of the many villages that saw a sharp rise in number of 'zero-dose children' in Uttar Pradesh. The MMs were given the task of identifying zero-dose children, mobilizing their parents and administering the due doses at the earliest. It requires scientific planning, hard work, and compassion. Armed with a B. Tech. degree, unparallel passion for community work, and childhood association with the program, Ekta stayed ahead of the curve. The job of a MM has fulfilled her long cherished dream. Ekta is now helping other children to live healthily and chase their dreams.
– By Yatender Singh, Program Manager – CORE Group Polio Project, PCI India