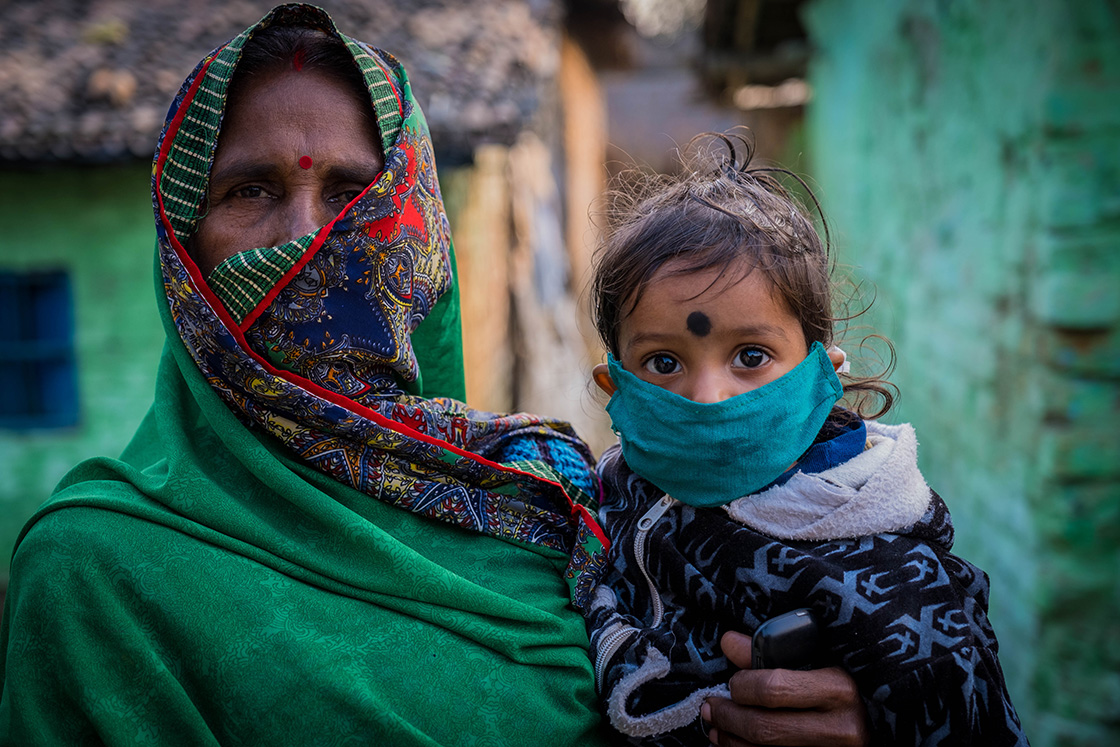 The COVID-19 catastrophe has massively disrupted our lives and presents unprecedented health and humanitarian crisis. Besides its direct impact on health, the pandemic will have myriad effects on livelihoods, economy, nutrition and fuel gender-based violence. Unfortunately, the poor and the most marginalized have to pay a higher price to it.
PCI India was one of the early starters who acted to withstand the crisis and save millions of vulnerable lives, piggybacking the existing programs and interventions. Tremendous efforts were put to design pandemic response strategies and tactics to prevent the communities from getting infected and sustain the impact of various other health and humanitarian grounds.
Fathoming the need for COVID-19 appropriate messages for behavior change, PCI leveraged its existing platforms to disseminate information specific to COVID-19 at the community level. In early phases of COVID-19 spread in India, even before the first lockdown, PCI supported JEEViKA in rural Bihar and UPSRLM, to generate community awareness and precautions for COVID-19 among JEEViKA and UPSRLM self-help group (SHG) members and their families. This was undertaken initially (Jan-Feb 2020) through SHG meetings and, once there were restrictions in gatherings, through large scale mobile conference calls and other virtual platforms A combination of virtual platforms was used to rapidly reach and raise awareness of JEEViKA and UPSRLM SHG members in Bihar and Uttar Pradesh on key aspects of COVID-19 and preventive measures. Modules and FAQs were also developed to address myths and misconceptions related to the virus and its preventive measures. Using the JEEViKA Mobile Vaani platform, PCI also facilitated the process of awareness generation using IVRS and helped in vetting existing content, creating new content and providing responses related to COVID-19. Online conversation sessions were organized for the adolescent girls of the TARA Project intervention area in Bihar to evaluate the pandemic stress among the girls. Post lockdown, a session was conducted to help them cope with this difficult situation. Awareness sessions were conducted on COVID-19 and new normal behavior for the adolescent girls via phone calls. The former Community Mobilization Coordinators of PCI's CGPP project in Uttar Pradesh also extended their support in community sensitization, promoting hand hygiene and encouraging the community members for COVID-19 testing and vaccine acceptance. In Uttar Pradesh PTSP disseminated appropriate messages on COVID-19 through pamphlets/leaflets to address the myths and misconceptions. Telephonic awareness sessions were conducted on COVID-19 and promoting COVID appropriate behaviors (CAB) for the community cadres.  
PCI's understanding of the Bihar landscape, association with JEEViKA and the go-getter approach were the encouraging factors for JEEViKA to seek support from PCI to build pandemic management capacity of JEEViKA staff and cadres at this challenging time. PCI adopted a cascading approach to train the District Managers, Block Managers, Master Resource Persons, Community Nutrition Resource Persons and Community Mobilisers of 38 districts of Bihar. 
In Uttar Pradesh the support evolved from awareness generation activities on the basics of COVID-19 pandemic and safety measures to behavior change communication driven by Prerna Technical Support Program (PTSP) in 39 districts and 78 blocks. PTSP-PCI trained UPSRLM staff and community cadre as the pandemic situation gradually widened its toll in the state. The engagement was further deepened to support the capacity strengthening of UPSRLM staff, cadres and resource persons on COVID-19 through virtual training. A caller-based mechanism has been developed to gather ground-level insights from rural areas to support the UPSRLM in generating effective and responsive communication for COVID-19. Total- 150 DMM, DRP and BMMs trained on COVID-19 in virtual training and 6476 Samuh sakhies trained through tele-conference training. Also, ICRP FNHW and SAC members separately trained on COVID-19 and after training ICRP FNHW rollouts the COVID-19 sessions in SHGs.
In mid-March 2021, a second surge of COVID-19 cases began in India with both metropolitan and tier II and III cities logging in unprecedented high number of COVID-19 cases and deaths per day. In response to a request from the Ministry of Health and Family Welfare, GOI, the Ministry of Rural Development (MoRD) conducted a nation-wide awareness generation campaign on COVID-19 from 6-24th April 2021. This was the second such campaign organized by MoRD – held in May 2020, with the support of PCI. The TA to NRLM project of PCI was called to action to organize the current campaign with extensive support from JTSP and PTSP projects of PCI.  SRLM staff from state, district and blocks of all States and UTs participated in virtual state-wise workshops conducted in batches over a few days. Messages on wearing masks, hand-washing, keeping safe distance and other COVID-19 appropriate behaviors were reiterated. Information on COVID-19 vaccine covered issues such as eligibility for vaccination, safety of vaccine, efficacy and registration and certification process. Sessions were made participatory with resource persons encouraging participants to ask questions and responding to their questions via chat. Questions were largely around vaccine related issues. Additional information was provided on immunity building and appropriate health seeking behavior. PCI supported with provision of technical resources, resource persons and IT support. Overall, twenty-one sessions were held, in which thirteen thousand nine hundred and fifty-eight persons were trained. The trained staff immediately initiated taking the messages forward through a cascade model to reach lakhs of SHG women and their families in the next week.  
Social Behavior Change Communication:
The attack of the unknown virus had put the world on a roller coaster ride. While the health crisis caused by the COVID-19 virus was not sparing anyone, how to build an immune community to mitigate the threats was still a question. It was in August 2020, when PCI SBCC team started supporting the Government of Bihar on COVID-19 response using SBCC approach. The team identified the areas of Stigma and Discrimination, Social Entitlements, Guidelines for Migrants, Threat Perception and Self-risk Perception, Gender Equity, Psychosocial Support, Care and Precaution Post Lockdown, Nutrition, MNCH, Family Planning and Adolescent Health to increase awareness through virtual channels. Post the nation-wide lockdown, two sessions on COVID appropriate behaviors and home-based appropriate care for enhancing immunity, were added to the Health and Nutrition-Social Behavior Change intervention set of JEEViKA. These interactive and action-oriented sessions were rolled out across over 800,000 SHGs of Bihar.
Community research was conducted on issues related to economic hardship, workforce migration, nutritional status and health services seeking behaviour among SHG households in Bihar. Over this period, the team has produced multiple animated videos on COVID-19 protection, immunity building, handwashing, stigma reduction etc. which were disseminated through JEEViKA community cadres. COVID-19 preventive messages were also disseminated through JEEViKA WhatsApp groups and Telegram Channel, with the target of reaching out to more than 1 million households. Animated handwashing video 'SUMAN K' was developed and disseminated through the public broadcaster Doordarshan and through social media networks of partner organizations in Bihar. The team has designed tailored social media static posts, GIFs which were disseminated via MoHFW, Government of Bihar, and Government of UP social media handles on different national and religious occasions. The COVID-19 anthem is the latest contribution of the SBCC team to the Government of Bihar which was played over mass media. Hand washing demonstration sessions were organized for the SHGs in Uttar Pradesh demonstrated Handwashing in SHGs and wCOVID-19 messages were disseminated during the festive seasons.
Ever since the pandemic has hit India, the CML team of PCI is on the toes to constantly generate ground insights, reflect on the current situation, synthesize lessons learnt and support the development of strategies for the future. 
The pandemic has changed the way programs interventions were carried out. With the restricted field movement after the lockdown, tracking the impact of COVID-19 on the vulnerable population was an uphill task. A list with mobile numbers of the households associated with JEEViKA was collected for conducting a telephonic survey. Six rounds of ground insights have been conducted to gather understandings about the impact of COVID-19 on people's lives, particularly on women and children, the coping mechanism adopted during the crisis, health and nutrition behavior and access to government entitlements. A team of 29 research investigators and eight supervisors were engaged to conduct the telephonic interviews. So far, 20,225 SHG HHs, 791 pregnant women and 719 lactating women have been interviewed. Until now, around 13 such studies have been conducted, which has helped PCI appraise the stakeholders about the current situation at various levels. A rapid barrier analysis study was recently conducted to have an immediate sense of COVID-19 vaccine eagerness, hesitancy, and refusal in rural Bihar. The ground insights reveal that around 76% is willing to take the vaccine when available; response hesitancy was seen among 23% of the respondents, majorly from the SC/SC and Muslim communities. A handful of 12% of respondents believes that they have strong immunity and do not need any vaccine. The rapid survey also brought to the fore an exceedingly great demand for more information around the place of vaccination and registration process.
The nationwide lockdown as the precautionary measure to reduce the transmission of COVID-19 resulted in large scale return of migrant laborers, loss of jobs, food shortages and erosion of livelihoods of the poor. The state of Uttar Pradesh had an estimated influx of ~4 million return migrants during the unlock phase. The Department of Rural Development (DoRD), Government of Uttar Pradesh (GoUP) is implementing Garib Kalyan Rojgar Abhiyan (GKRA), announced by the Government of India (GoI) in six states of the country, to generate employment opportunities for vulnerable households to mitigate adverse financial implications of the COVID-19 pandemic. The GoUP has also announced Atmanirbhar UP Rojgar Abhiyaan (AUPRA), in line with the schemes launched by GoI, which is also being implemented through the DoRD. 
PCI supports the DoRD in analyzing the database of the return migrants, including district and block-level analysis of the database to ensure access of entitlements to the return migrants. PCI supported the department in developing customized reports based on central reports to review the performance of each GKRA district, including the development of monitoring tools etc. PCI is also supporting the Government to implement the AUPRA by identifying relevant government schemes for employment generation targeting the migrant workers and other vulnerable households, drafting guidelines for the implementation of AUPRA and developing the monitoring tools. PCI has also developed communication products (stories, newspaper articles etc.) for the DoRD to increase the visibility of the initiatives undertaken by the DoRD to mitigate the adverse effects of COVID-19.
While the country was struggling to supply an adequate number of masks and other safety kits, a turning point came in the domain of masks production in Bihar with Shilpgram/JEEViKA and IIT-Bombay (IIT-B) coming together for a pilot called 'Duraprot Coating Technology'. Duraprot is a wash-resistant anti-viral and anti-bacterial coating developed by IIT-B for textiles and is applied on masks to improve their protective properties to safeguard the users from accidental infection. PCI joined this initiative to augment the COVID-19 safety measures. Another objective was to support an enterprising initiative that could provide an opportunity to the SHG members for income generation, especially those who lost their source of income to the pandemic. PCI supported SHGs in Uttar Pradesh to develop cost effective reusable masks at large scale and distribute amongst the community. These masks were also bought by the govt agencies for further distribution. 
Two centers were selected to pilot the mask coating project – one in Bihta block in Patna district and the other in Lalganj block in Vaishali district. SHG members were given proper orientation and demonstration on 'how to use' techniques through a virtual platform. JEEViKA's virtual shop https://shop.brlps.in/, an innovative marketing channel that directly connects the producers to the customers, was explored to sell those chemical coated masks. As a part of sustainability, PCI has exited this pilot, and Shilpgram is taking this forward for replicating and scaling up.