The total population of India is 1433 million; around 485 million people reside in urban areas and 948 million reside in rural areas. Currently in India, according to ICUBE 2020 data, the country has a total of 622 million or 43 % active individual internet users. Around 67% or 323 million internet users are from urban area and 299 million or 31% are the internet users from rural areas (IAMAI-Kantar ICUBE Report, 2020) .
People use internet for various purposes which includes entertainment, communication, connecting to other individual/s via video chats, call, making online payment/s, office related work etc. According to the ICUBE Report 2020, there are five major categories of activities that usually happens on the internet. These activities are Entertainment (96%), communication (90%), social media (82%), net commerce (45%) and online shopping (28%). Thus, it is evident that social media activities have a major stake on the internet. There also exists a gender divide in terms of internet users in the country which varies depending upon rural or urban areas. In urban areas men constitute almost 57% of the active internet users while women are around 43%. Likewise in the rural areas males remain the prominent users of the internet compared to women i.e., 58% and 42% respectively (Economic Times, 2021) . Ultimately, the humungous percentage of the Indian population using social media speaks volumes and it should be utilized as an asset to raise awareness on certain issues.
Filaria Elimination Program could leverage the power of social media to raise awareness among the adolescents and youth. This note focuses on the how to spearhead the awareness about Filaria using the medium of social media and engaging adolescents and youth to bring visible change.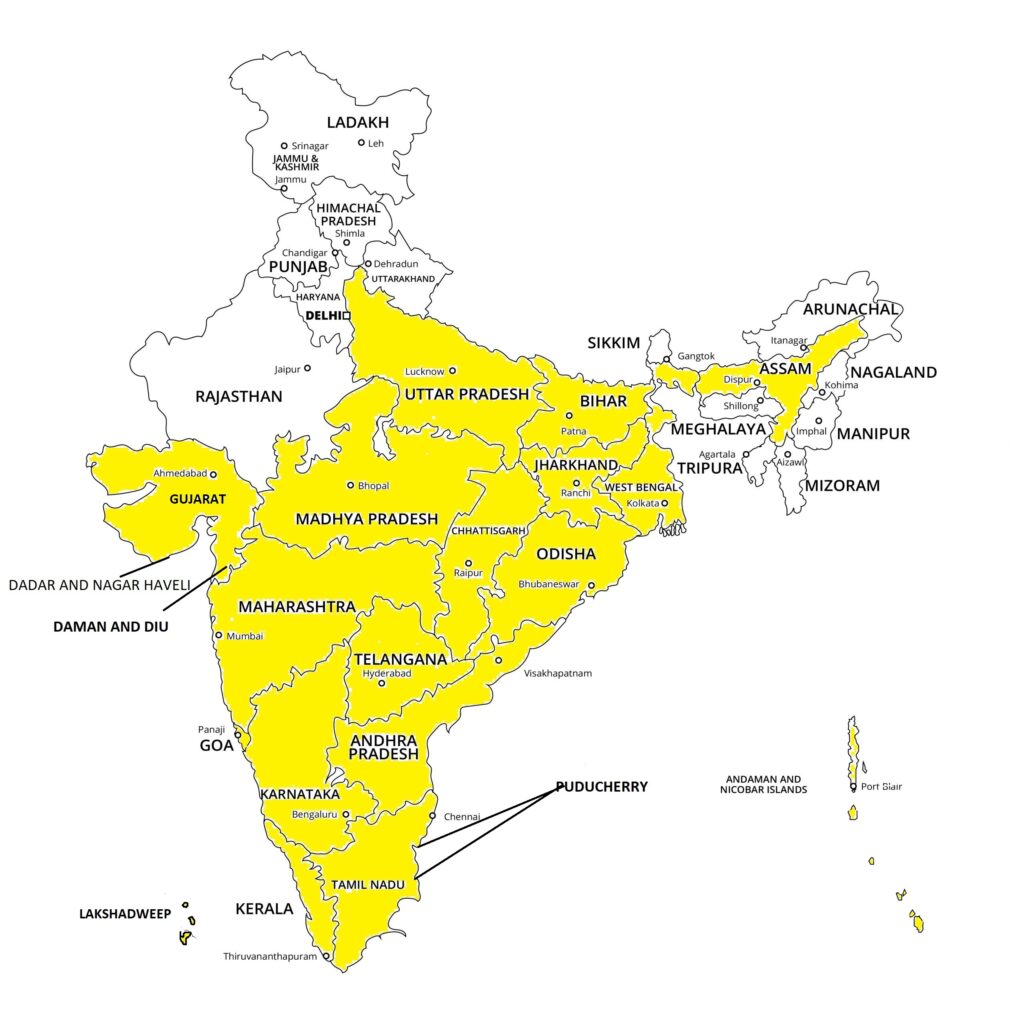 Filaria or Lymphatic Filariasis is a vector borne neglected tropical disease commonly known as Elephantiasis. It spreads when a mosquito carrying the filarial parasites bites a human being. This infection usually occurs in the childhood which causes damage to the lymphatic system. However, the painful and visible manifestation of the diseases usually occurs later in life which has the potential to cause permanent disability. Filaria is the second most leading cause for permanent disability. In addition to physical disability the affected individual goes through the perils of social, mental, and financial suffering which eventually results in stigma and poverty (WHO, 2021) .
India accounts for nearly 40% of the global LF disease burden. It is prevalent in 20 states & UTs and 272 districts of the country (See Map). Every year MDA (Mass Drug Administration) are carried out in the endemic districts. Moreover, Filaria is non-curable although by consuming the anti-Filarial drug during the MDA rounds, one can safeguard themselves from this debilitating disease.
All about Lymphatic Filaria
Objective of the Campaign
The name of the social media campaign on Filaria is coined as #2030FilariaEliminationChallenge (In English) and #2030फ़ाइलेरियामुक्तभारत (In Hindi). The objective of #2030FilariaEliminationChallenge / #2030फ़ाइलेरियामुक्तभारत is "To raise awareness about Filaria and Call for Action among communities with focus on adolescents and youths". The term Call for Action means raising awareness on filaria, its transmission and prevention among this section of population, give them a feel of pain or sufferings and motivate them to consume anti-Filarial drug during Mass Drug Administration (MDA).
Myth busters on Lymphatic Filaria
Rationale for the Campaign
#2030FilariaEliminationChallenge is designed to spread the awareness about filaria in every segment of the society/communities. Globally, 4.95 billion people use internet which is equivalent to approximately 62.5%of the world's total population (Digital 2022 Global Overview Report, 2022) . These numbers resonate with the Indian population as 43% of the total Indian population are active internet users. Hence, harnessing this numbers through voluntary participation of everyone who uses social media platform will help in generating momentum towards raising awareness about Filaria, its transmission, prevention. The activity proposed will help the participants to feel the pain and sufferings which a filaria patient undergoes. They will be able to perceive risk and get motivated to consume anti-Filarial drug during Mass Drug Administration (MDA). The social media is a platform which provides visibility and recognition to an individual which they cherish. Hence, this approach will provide better reachability, superior flow of information and awareness about the disease and enormous participation.
Targeted elimination of Filaria
What:
#2030FilariaEliminationChallenge / #2030FilariaEliminationChallenge / #2030फ़ाइलेरियामुक्तभारत campaign aims to raise awareness about Filaria, its transmission and prevention and prepare them to consume anti-filarial drug during Mass Drug Administration (MDA) among communities with focus on adolescents and youths. The Key message the campaign aims is to spread that filaria is preventable, and it should not be considered a taboo. The incubation period of this disease is approximately 8-15 years and once symptoms start arising there is no cure for it.
Who:
Adults and adolescents who use social media platform such as Facebook, and Instagram.
How:
As part of #2030FilariaEliminationChallenge / #2030फ़ाइलेरियामुक्तभारत, schools and colleges will serve as platform for engaging with adolescents and youth. The National Center for Vector Borne Diseases Control (NCVBDC) will send official/letter/notifications to the Central Board of School Education (CBSE) affiliated School across India to participate in the campaign. Additionally, in states where MDA is/are ongoing or being conducted their State Program Offices would send official/letter/notification to local colleges to encourage participation from college students in the campaign. The active social media users will use social media such as Facebook, and Instagram to participate in this challenge. The steps to be followed to participate in the #2030FilariaEliminationChallenge / #2030फ़ाइलेरियामुक्तभारत is given below.
The participant would tie/tape (whichever is feasible) at least two liters bottle filled with water around each leg.
The participant would record themselves in a video doing either of the two activities, their experience, and nominating individuals for this challenge. Participants will need to perform these activities:

Perform 20 kicks in 30 seconds
Do 20 cycling action or air cycling exercise in 30 Seconds

3. Participant would then upload the video using the hashtag #2030FilariaEliminationChallenge or #2030फ़ाइलेरियामुक्तभारत and tag at least three individuals on any/ all two social media platform i.e., Facebook and Instagram. In the caption the participant can share their name, age, awareness about filaria and their experience of participating in #2030FilariaEliminationChallenge / #2030फ़ाइलेरियामुक्तभारत.
4. Participants will also tag the social media page (depending upon whichever platform they are using). For Instagram it is lfeliminationchallenge2030 & for Facebook it is Lfeliminationchallenge2030 These pages will contain videos to educate the participants and about Filaria.
When:
TThe Timeline of the Campaign: May 5th, 2022
Tackling the Pathogenesis of Hydrocele
A hashtag tracking tool will be used to measure the number of participations in #2030FilariaEliminationChallenge / #2030फ़ाइलेरियामुक्तभारत
DURATION OF THE CAMPAIGN: six months starting from May 2022