JEEVIKA HEALTH HELPDESK: AT THE SERVICE OF RURAL POOR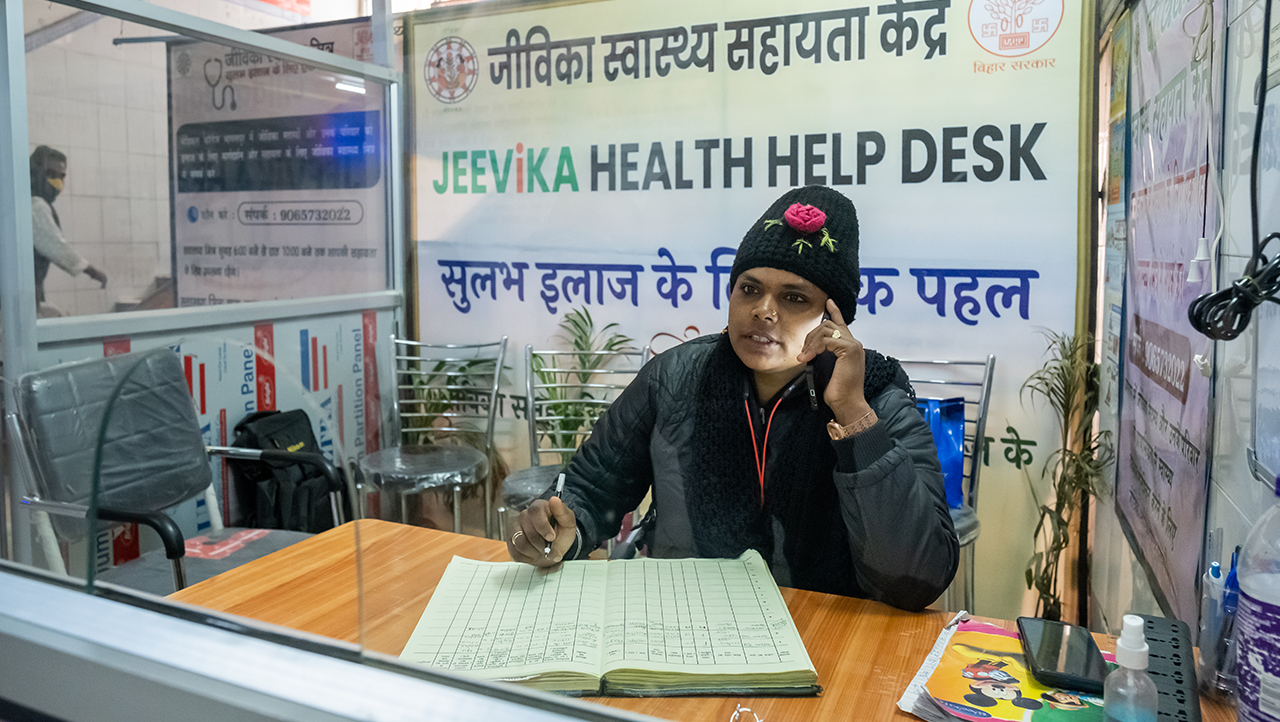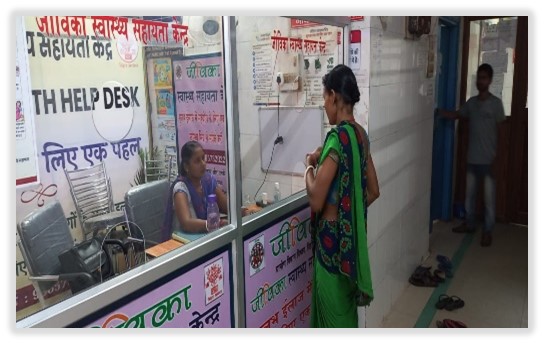 HELPDESK ASSISTING A LADY, MUZZAFARPUR
Very often, for a rural citizen, the visit to a health facility means waiting in long queues and running from pillar to post if you can't read. This results in uncertainty, anxiety, delayed medical care and loss of precious time, which simply means a loss of wages.

JEEViKA Swasthya Sahayta Kendra (JSSK) is a helpdesk set up at the tertiary health facilities to provide timely on-the-spot assistance to patients. The helpdesk operates between 6 AM to 10 PM in two shifts and a Swasthya Mitra (JEEViKA didi) is always available there. This initiative, which was first started in Bhagalpur in September 2022, provides easy and timely access to medical facilities to JEEViKA SHG members and their families. The JSSK aims to improve the overall experience of the patients and caretakers at the health facility. Apart from the design and setup of helpdesks, PCI has facilitated the recruitment & training of JEEViKA Swasthya Mitras, who will attend to these helpdesks at AIIMS Patna.
One of the many instances where the helpdesk turned out to be a saviour was in the case of Zamil from Muzaffarpur. On 5th of January, 2023 he came from Kati Damodarpur to Sadar Hospital Muzaffarpur with his wife for her delivery. He was unable to find anyone who could attend to his wife. After a long wait, she was admitted to the ward post checkups. The whole day, no attendant or medical staff came to see her. When on 6th January, the labor pains started, her relatives and husband panicked as they did not know who to approach. Luckily, the JSSK helpdesk didi, Shahzadi Khatun who had come to visit another patient, came to their rescue after seeing the helpless woman wailing in labor pain. She approached the nurse, who told that she could not give any medicines to the patient, unless advised by the doctor.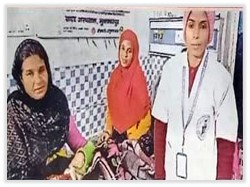 SHAHZADI KHATUN WITH MOTHER AND CHILD
The patient's condition worsened, and it looked like she could even die if no action was taken. Seeing this, Shahzadi Khatun took the patient to the labor room. Her relatives and husband were still requesting the hospital administration for help. Together with didi, they decided to escalate the issue to the District Medical Officer. This forced the hospital to attend to the patient. Post-delivery, both the mother and child came out healthy. In the evening, didi came to visit the patient and the newborn.
In this regard, Civil Surgeon Dr UC Sharma has applauded the JSSK didi for her effort and quick action. Now, the Civil Surgeon himself will review the complaints coming to JSSK. These helpdesks are now being established at other tertiary-level facilities such as Medical Colleges and Hospitals and District (Sadar) Hospitals as well.
Overall, 34 district hospitals, and 8 medical colleges till date have the helpdesks. In the past months, several cases of prompt assistance provided by JSSK didi have surfaced.
Authors:
Md. Ashraf Parwez, State Program Manager – Health & Nutrition
Ronnie Clive Francis, Manager – Communications & Knowledge Management
Editor:
Prasann Thatte, Director, Knowledge Management