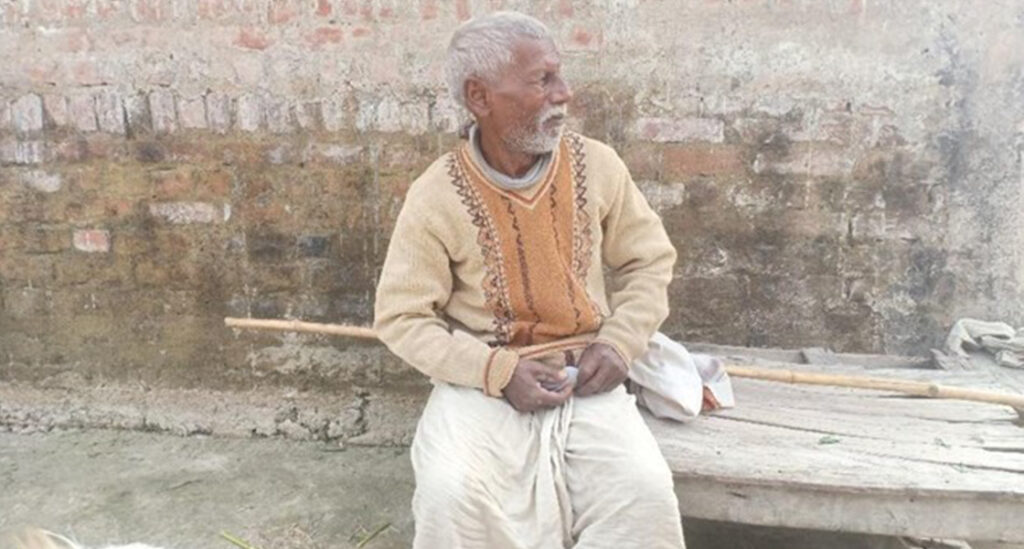 Chokhat Yadav, a 73 year old male, resides in Telua village located in West Champaran. This village was selected as one of the RECOVER project villages. The village mobilization coordinator (VMC) in this village had line-listed all the individuals and informed block coordinator (BC), Chandan Kumar, about this refusal case. Chokhat Yadav was reluctant to get vaccinated even though people around him were vaccinated.
The block coordinator decided to pay a visit to this elderly and understand his concerns around vaccination. Chandan (BC) visited the elderly's house along with the VMC and vaccination team. Upon their arrival, the elderly refused to speak with them and asked them to leave. The VMC tried to convince Chokhat Yadav but he soon became hostile towards them.
The block coordinator decided to adopt an empathy driven approach to counsel the elderly and started having a general conversation with him. He learned that Chokhat Yadav was scared of needles as he could not recall any instance where he had to take injections. The elderly believed that he would die if he took this vaccine. Chandan could sense the rigidness and adapted to another counseling technique soon.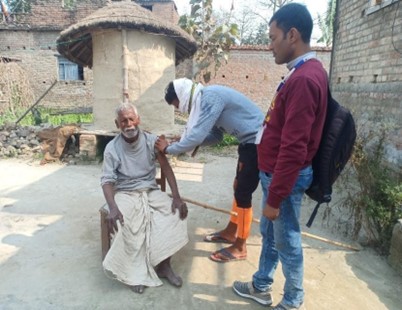 During their conversation, Chandan Kumar (BC) also learned that Chokhat Yadav's son is a migrant worker and had already taken the vaccine. Chandan understood that speaking with the son might be helpful in convincing the elderly. He requested Chokhat's daughter-in-law, present in the house, to put him on call with her husband.
The son seemed to be pro-vaccine and played a major role in convincing the elderly. He provided Chandan with the Aadhaar number of his father so that they can register him. Later on, he spoke with his father and finally convinced him.
The neighbors and daughter-in-law, who had gathered as spectators, participated with Chandan to help reassure the safety around the vaccine by explaining their vaccination experience. The block coordinator finally reassured that he will also provide him with the certificate of vaccination and will provide mobility assistance if anything happens to him. The elderly finally agreed and got vaccinated.
The ground team, BC and VMC, made sure to visit Chokhat Yadav the next, as promised. They handed over his vaccination certificate and asked him about his well-being. Chokhat Yadav had a good experience with the team and told them that he is no longer afraid of the needle. He also asked the team to keep him updated about the second dose so that he can get it in a timely manner.
Block coordinator's rapid adaptation to multiple counseling techniques and engaging family members played a big role in convincing the 73 year old elderly. The ground team ensured a positive vaccination experience for the elderly that will further motivate other villagers to get vaccinated.