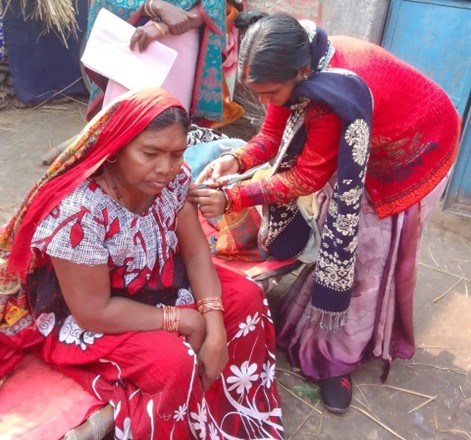 The RECOVER Bihar project is in full swing and the on-site team is administering second doses of COVID-19 vaccine in masses. While elderly and chronically ill were the first to get vaccinated initially, the team still encounters a few hesitant pockets from this group every now and then. Ground teams have made several efforts in identifying and breaking the fears of the ill and elderly.
Chronically ill people have an increased risk of contracting COVID-19 that can be reduced through vaccines. However, the perceived risk of COVID-19 among this group has been very low, making it very difficult to convince them for vaccination. Multiple teams found that chronically ill beneficiaries were hesitant towards COVID-19 vaccine fearing that their current state of health will deteriorate post-vaccination.
The beneficiaries gave various reasons for not getting jabbed like "I am very ill on the inside and the vaccine will make it worse" or "I will surely die if I take the vaccine now, I already have so many medicines going on." The team deployed at Bindpurwa village in Kaimur district faced similar challenges.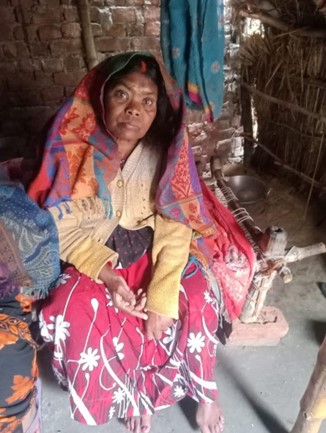 A sixty-plus-year-old woman suffering from tuberculosis is one of the cases that the RECOVER team has successfully mobilized. The team in Bindpurwa village, Kaimur district worked meticulously with many beneficiaries in a single day encouraging other vulnerable sections who were fearing the vaccine to come forward. The VMC and block coordinator went to visit the elderly woman at her doorstep along with the ANM, verifier and vaccine kit.
VMC and BC listened to all the concerns the beneficiary had, emulating an empathetic counselling technique. The lady was afraid that she might lose her life because of the illness and medicines. The BC and VMC reassured her that the vaccine will only help protect her from a more severe illness. After successfully engaging with her for a while and freely exchanging thoughts, the old woman agreed to get vaccinated. 
The counselling technique followed by the VMC in Bindpurwa involved mindful listening to the beneficiary's concerns. Listening and then addressing each doubt patiently helped convince the beneficiary to get vaccinated. To complete the trust building protocol, VMC visited the beneficiary the next day to follow up on her health and check on post-vaccine symptoms.
With home visits in place, physical mobility is no longer a challenge for the elderly or chronically ill beneficiaries in RECOVER districts. The main challenge is to address their fears around vaccinations and offer reassurance. Teams in all regions are following similar techniques to break refusal pockets. Small steps are helping reinstate trust and empowering the people to step up and get vaccinated for their own wellness.