Date: 17th March, 2023
Venue: Hotel the Panache, Patna
Learning for the Future
Background
A workshop on "Bihar's Fight Against COVID – 19: Learning for Future" was hosted by State Health Society, Govt. of Bihar and PCI India on 17th March '23, to garner the learnings from COVID 19 vaccination efforts and its related communication strategy for future planning and action.
The workshop sought to gather key learning from the highly successful and effective COVID 19 vaccination and communication effort to plan for effective communication across a wider range of public health and nutrition themes that encompassed routine immunization, maternal and child health and nutrition, and family planning.
Key participants of the workshop
Key participants of the workshop were the Health Secretary cum Executive Director, State Health Society Bihar, State Programme Officers for Immunization, Maternal Health and Family Planning, District Immunization Officers, Partners from JEEViKA, ICDS, Donor representatives from BMGF and D&L Packard Foundation and a galaxy of Development Partner representatives from across Bihar.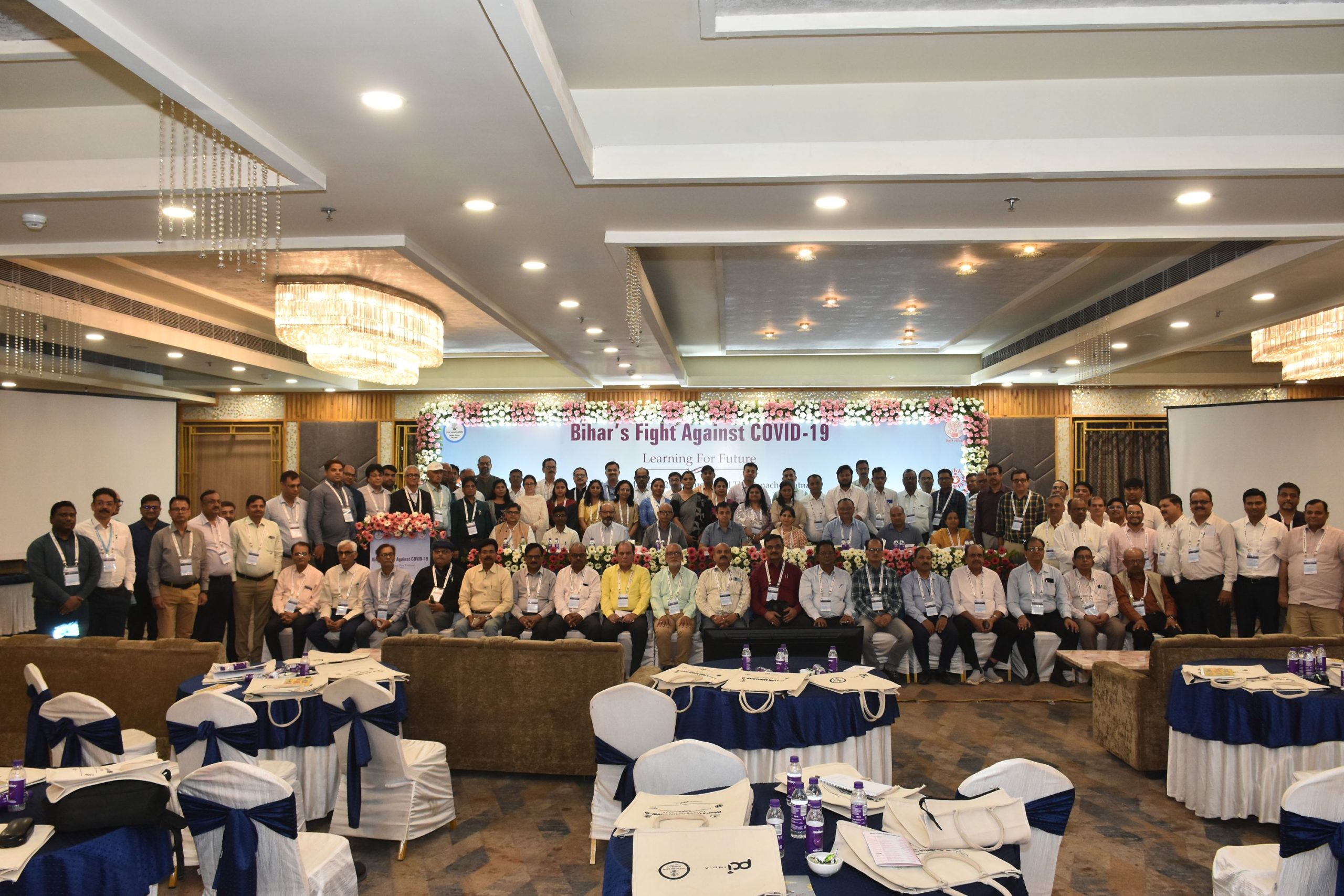 Highlights of the workshop:
Inauguration
This featured the welcome address by the State Immunization Officer (SIO) Dr N K Sinha followed by Dr N Pradhan (COP-PCI) sharing the main objectives of the workshop. Video presentations were made on COVID Vaccination initiatives of GoB, RECOVER Bihar program of PCI related to last mile COVID 19 vaccination efforts and a unique peer mobilization effort among adolescents for COVID 19 vaccination. A coffee-table book ''Bihar's Fight Against COVID 19'' was also unveiled by the Secretary-cum-Executive Director, SHS-Bihar that included contributions from Government departments and partner agencies. Representatives from the agencies were present to mark this occasion.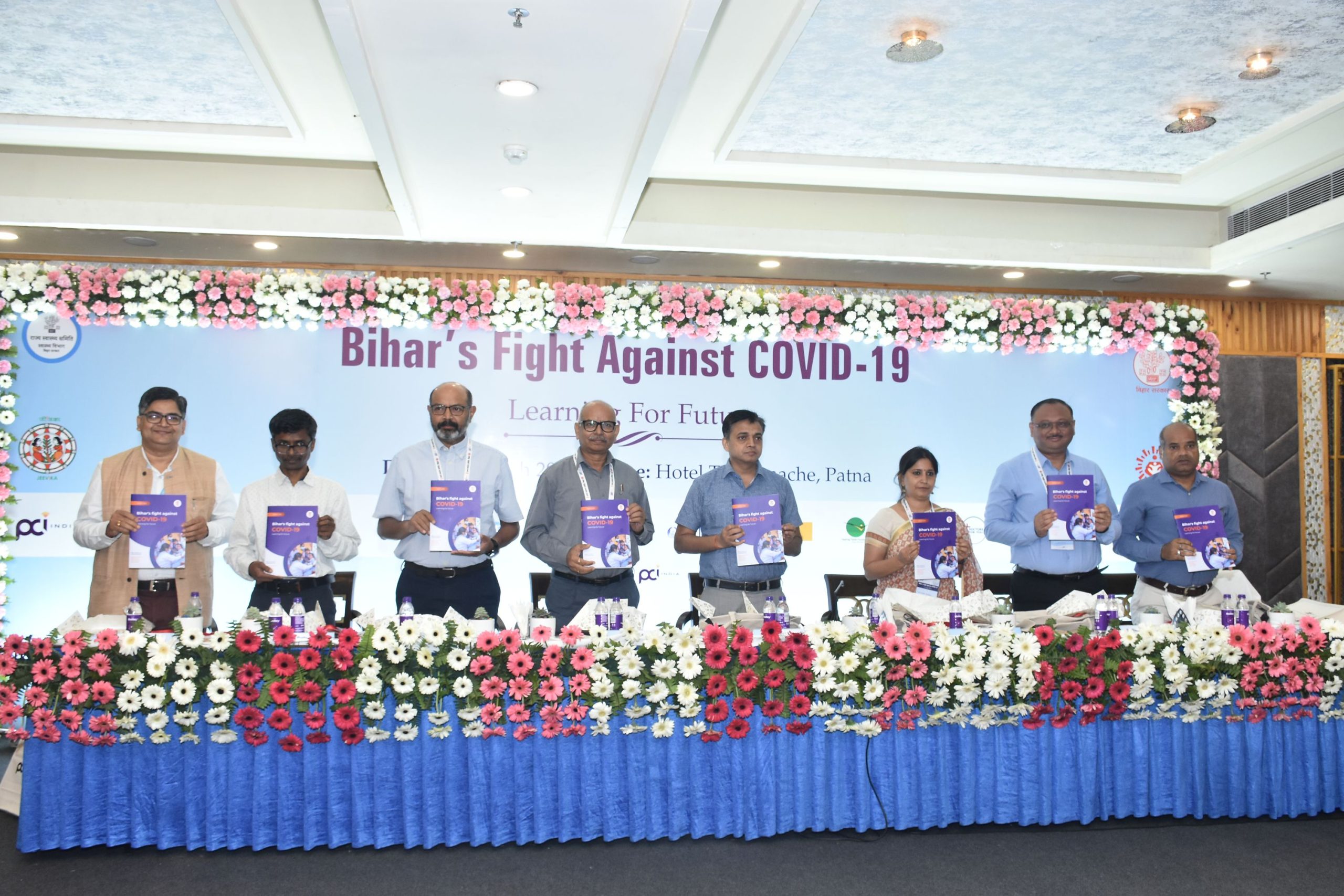 The Health Secretary-cum-Executive Director, State Health Society, Govt. of Bihar Mr. Sanjay Kumar Singh, delivered the keynote address on COVID 19 Vaccination Achievements and Learnings from Bihar. He spoke about Bihar's remarkable response and achievement in overcoming the COVID 19 pandemic, especially the strategies that led to rapid and successful coverage of COVID 19 vaccination. There was much learning from the response of COVID 19 that could be translated to health areas such as Routine Immunization, Family planning, Nutrition and Non-Communicable diseases and the lessons learnt while we got slightly burnt during the response to the COVID 19 pandemic should be used to improve health overall. He called upon development partners, DIOs and SIO to share a communication strategy for handling refusal, hesitancy, ignorance, gaps and falsehood in information.
Ms. Pooja Sehgal (BMGF) shared how the communication response during the pandemic needed to be very agile and nimble as there were many "unknowns" that needed to be tackled during the many shifting phases of the pandemic. She emphasized the need to be both timely and appropriate while designing communication materials and strategies..
Mr. Anand Sinha (Packard Foundation) shared the difficulties faced by funding partners during the COVID 19 pandemic as the challenges were very dynamic and called for agility and appropriateness in response. He recollected that during the COVID 19 surges, when Government systems were overwhelmed and inundated, then Packard foundation response to support charitable hospitals augmented Government's efforts in difficult and challenging areas. This in many ways helped in strengthening linkages between Government Departments and Charitable hospitals. Mr. Anand also shared how the Packard Foundation supported partners who helped COVID 19 vaccines reach the final 5% unreached geographies and special underserved populations.
Mr. Andy Bhanot (Director SBC-PCI) shared about the increasing smart phone and internet penetration in Bihar which called for a digital approach for communication, which he called the 4 E Approach-Entertain, Educate, Engage and Enable. He screened a teaser of an infotainment and edutainment series 'Chatkarey Zindagi Ke' and shared about its roll out experience with JEEViKA. He proclaimed that this series along with its more interactive mobile game and bot complement maybe used by ICDS, ASHAs (Health) & Education departments with suitable modifications.


JEEViKA and ICDS Response to COVID-19
Ms. Somya (Jeevika) described how their strategic framework of complementing livelihood enhancement with vulnerability reduction was used effectively in JEEViKA's response to COVID 19 pandemic. She narrated Jeevika's COVID-19 response efforts related to chemical coated mask-making, COVID awareness through phygitial (physical & digital mix) platforms and mobilization of SHG women and their families for COVID 19 vaccination.
Ms. Rifat (ICDS) discussed two phases of ICDS response to COVID 19 – pre-vaccine and vaccination phases. The initial phase was centered around awareness generation, community surveillance by AWW, door-to-door counselling and control room liaison for service to migrants. During COVID vaccination, they helped upload vaccination data on Poshan Tracker App and helped deliver THR with supplementary nutrition.
Development Partners Response to COVID-19 Insightful
Presentations were made on development partners' response and support during the COVID 19 pandemic by the following persons:
Dr Satapathy (WHO) informed how the WHO team supported GOB in COVID 19 surveillance and response efforts. This included tracking of international passengers, contact tracing and large-scale household surveys through ASHAs to reach symptomatic cases.
Mr S Reddy (UNICEF) shared that an infodemic of false information posed a threat and the UNICEF team supported GOB in developing a communication plan which was multi-dimensional & end-end. This included tracking patients, offering psycho-social support, oxygen, awareness, cold-chain, training key stakeholders on addressing refusal, mobilization amongst others.
Mr. Rahul Saigal (Friday and Theo) described the development of the successful communication campaigns related to the rallying cries related to "6 cr. vaccination in 6 months", "ek adhoora do se poora" etc.
Dr. Anubhuti (PCI) shared learnings from last mile COVID 19 vaccination efforts called the RECOVER Bihar program with special efforts related to vaccination among adolescents, pregnant & lactating women, Mahadalits, hard-to reach villages and hamlets
Professor Jason from University of Yale made a video presentation on a study undertaken in last mile areas to improve COVID 19 vaccination through incentives such as food packets and coupons.
Panel Discussion on key learnings from COVID 19 vaccination and communication efforts
Andy Bhanot (PCI) moderated a panel discussion with representatives from CHAI, CARE, Swasti, Doctors For You, UNDP, NIPI & Healing Fields to glean out the following learning from the COVID 19 response: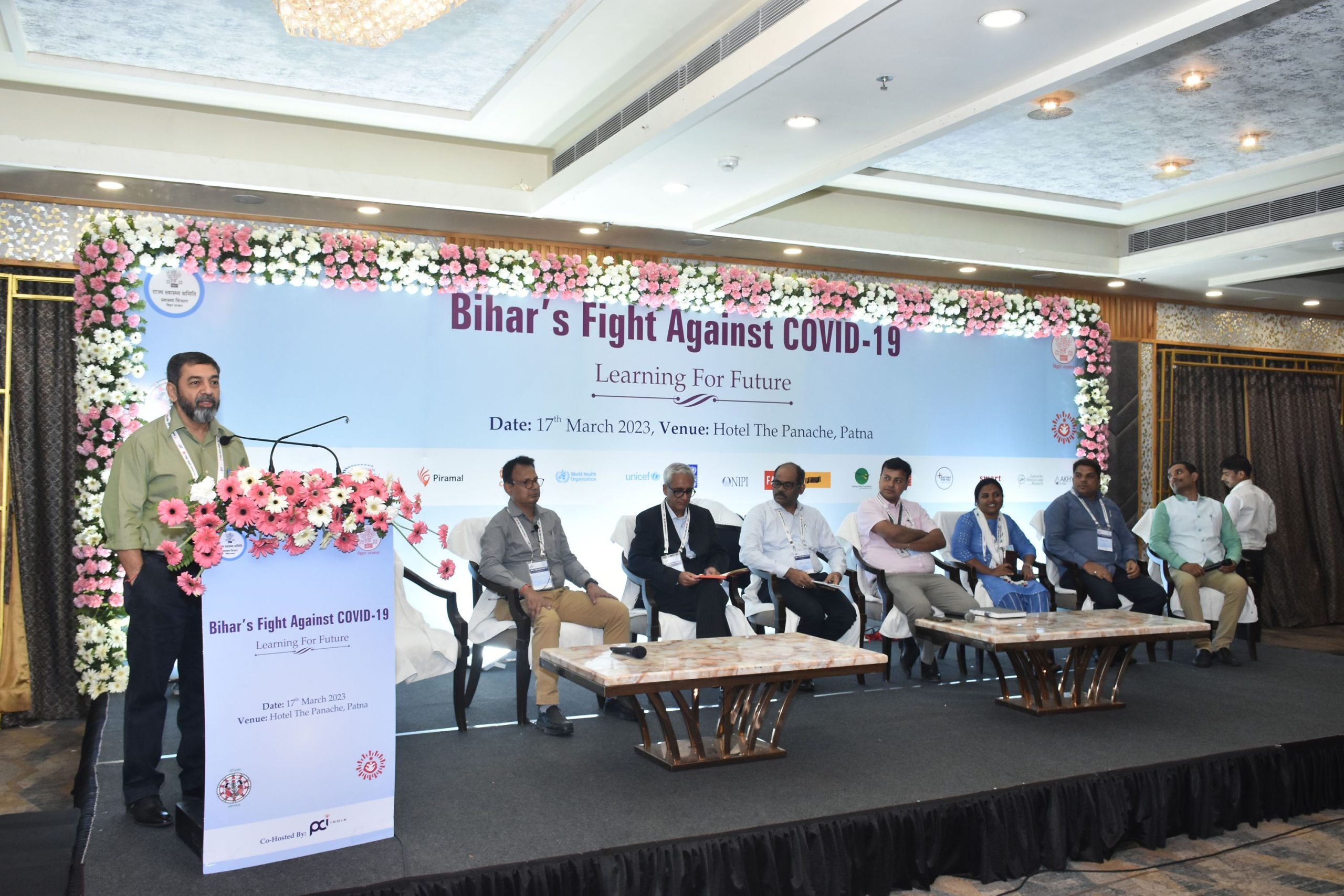 Use of digital platforms and opportunities for vaccination and communication: The COVID 19 pandemic ushered a new era digital platform through CoWIN portal for registering, reminding and tracking of COVID 19 vaccination; use of online platforms for learning, training and the extensive use of mobile based communication.
Improving access to COVID 19 vaccines by expanding reach: Special innovation like 24x7 vaccination booths set-up at railway stations and airports to tap people in transit, 'Pink Booths' being managed fully by women and lottery system for vaccination helped improve reach and acceptance of COVID 19 vaccines.
Data Analytics & Quality Documentation: Good quality data derived from CoWIN helped design a variety of COVID 19 responses Reliability, Tracking Beneficiary and Predictability of the response was possible through data. Documentation of learnings through 'Tikanama', 'Jashn-e-Tika' were noteworthy as well.
Reward & Recognition: Health workers were fatigued after 12 months of intense work, no incentives for travelling or vehicles for safety, and lack of logistic support failed them after a point. Key drivers such as providing WiFi connectivity, skillset training, appreciating & celebrating their efforts helped improve FLW motivation and performance.
Panel Discussion on translating COVID learnings for Routine Immunization, Maternal & Child Health, Nutrition, and Family Planning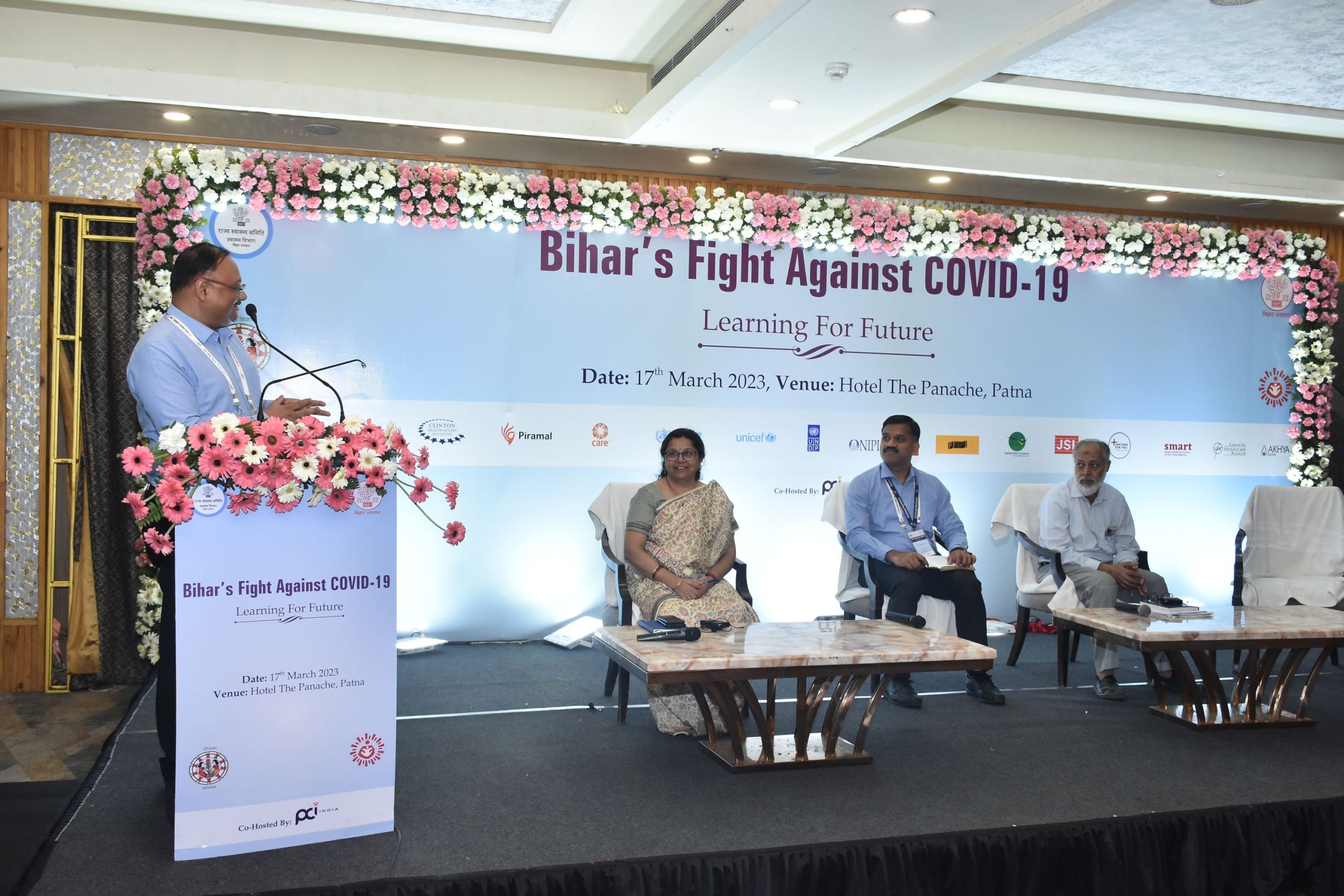 Dr N Pradhan (PCI) moderated a discussion among DIOs, SPOs Maternal Health and Family planning and UNICEF representative to understand how COVID learnings could be used in domains such as Routine Immunization, Maternal & Child Health, Nutrition and Family Planning. The following learning emerged from the panel discussion:
Increasing sensitivity and commitment to VPD outbreaks, Maternal and Newborn deaths, Malnutrition and high TFR in Bihar to develop a comprehensive and sharp communication response led by an able leader in the Health department.
Including partners such as JEEViKA, ICDS, PRI and development partners in expanding and sharpening the communication reach.
Using Digital platforms for surveys, tracking, reminders, increasing awareness and allaying misinformation related to RI, RMNCHN and FP. This includes developing an ASHA YouTube channel and online learning management system.
Organize sharp multi-platform and channel communication campaigns on various health themes.
Combining commodity with communication e.g. vaccines with immunization, IFA with maternal nutrition and contraceptives with FP communication.
Improving capacity of frontline workers and facility level service providers by using a mix of digital and physical learning platforms.
Use of real time data, possibly through U-WIN and ANMOL platforms for review and program improvement.
Display of communication materials:
The PCI team exhibited communication materials; including phygital tools developed for improvement of COVID 19 vaccination and RMNCHN efforts to the Secretary Health and other participants.