ADDRESSING COMMUNITY REFUSALS IN MAHADALITS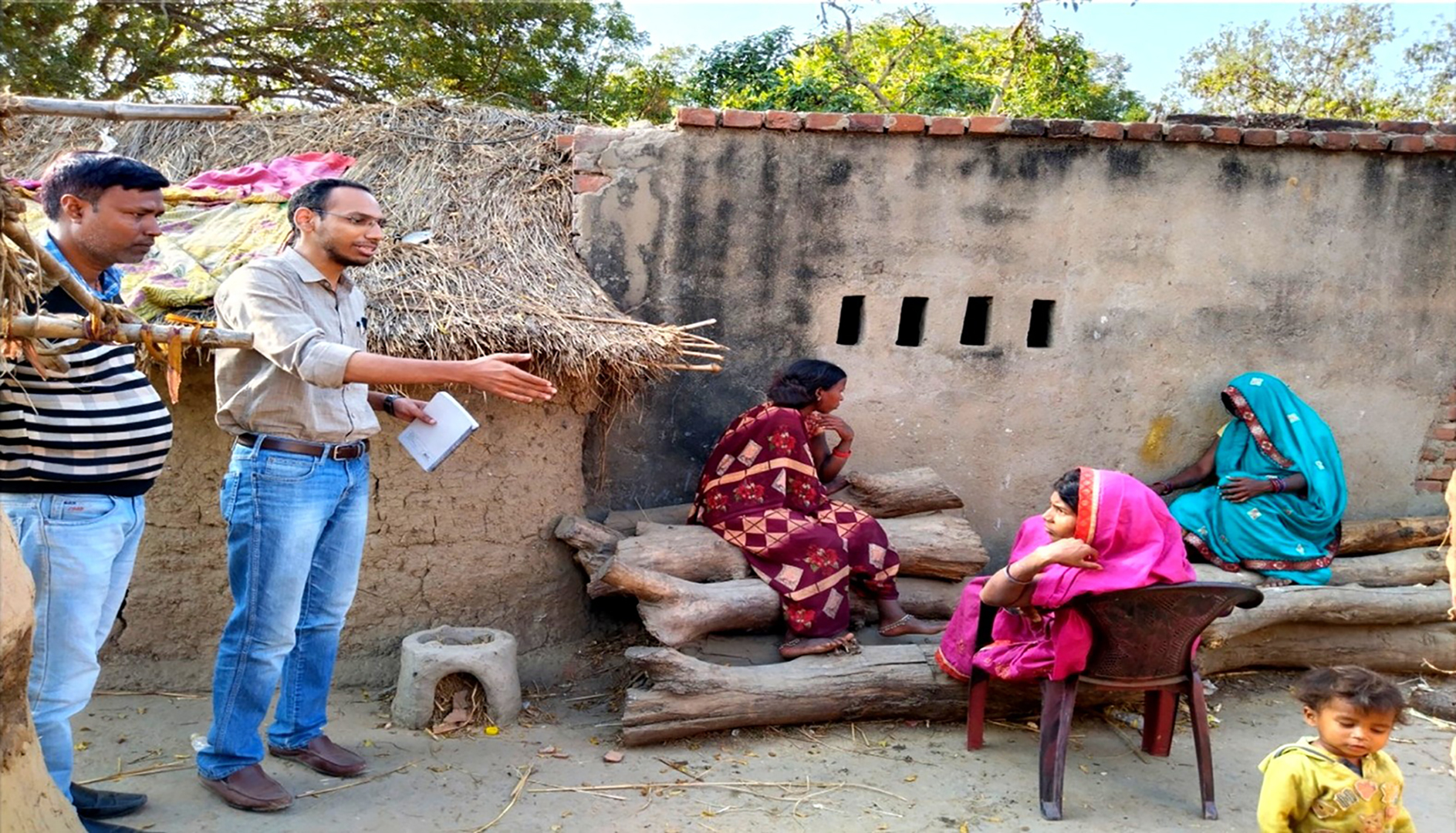 By encouraging vaccine uptake through recurring reminders
Chandi Mushari in Garharni block of Bhojpur district is one of the hard-to-reach Mahadalit areas. There is no road connectivity it. To commute to other places, they need to walk three kilometres to reach the roadside where they wait to avail transportation facilities, mainly bus and auto-rickshaw that plies twice or thrice daily. The majority of working population is engaged in farming activities or work as agricultural labourers. The hamlet has been identified as one of the least vaccinated tolas because vaccine hesitancy was widespread prevalent this extremely backward community.
The vulnerable population here believed that vaccination is not required for their children. They cited that none of the members in their family have got their children vaccinated so far and nothing adverse had happened. Therefore, they did not want to vaccinate their children. Besides, they had a misconception that vaccine would pose a threat to their child's life.
Since they were completely unaware about the importance of vaccination, the field team of PCI interacted with the community around the benefits of immunization. However, the major section of the community did not show any interest in it. After several counselling sessions, three couples in the tola agreed to vaccinate their children. When the vaccinated kids suffered from fever for a day or two after vaccination, others in the community got afraid and blamed the vaccine for causing side effects on their children's health.
As refusals were high, vaccine coverage in the community was very low. Therefore, the team of PCI in collaboration with the PHC organized an orientation session in which challenges faced by ASHA didi and ANM were addressed. With their guidance, they updated the due list and survey register. To address myths and misconceptions around vaccination, several counselling sessions were carried out in the community. The block coordinator along with ASHA didi and ANM created awareness through house-to-house visits. While some of the beneficiaries got convinced, a few were rigid in their opinion.
To convince these beneficiaries, the block coordinator took the help of local influencers whom the community trusted, which included their leader, local dealers, Mukhiyas and Gram Sevak. Besides explaining the importance of immunization, they also cited examples of those beneficiaries whose children had been immunized and were continuing their day-to-day life safely. Since refusals were high and the mindset required more in-depth attention, Vikas Mitras also supported and motivated the community. Additionally, on their house-to-house visits, ASHA didi and ANMs gave health and nutrition guidelines to the mothers who have children from 0-23 months at home.
Together with everyone making efforts and with the collaboration of PCI and PHC, the community took the due doses in Chandi mushari. In February23, there were only 38 due doses. After recurring reminders and door-to-door counselling sessions, a positive change in the mindset of people evolved. Now, it has become easier to convince them for their due doses.
Author: Swati Savarn (Consultant)
Editor: Ronnie Clive Francis (Manager Comms KM)