Our Genesis built on the ethos of community-centricity and mobilisation
PCI India is registered under the Societies Registration Act 1860, and has been present in the country since 1998 playing the role of a catalyst in India's socio-economic transformation. In these 25 years, the thematic areas on which the organisation has been working include Adaptation, Mitigation and Loss & Damage. Over the years, they have developed proven expertise in designing and implementing programs in numerous developmental areas including Health, Nutrition, Women Economic Empowerment & Livelihoods, Gender, Diversity, Equity, Inclusion and Social Norms and Social Protection.
Over the decades, PCI India has evolved into an organisation with deep community connect. It continues to design evidence-based and measurable programmes, driving interventions at scale to transform the lives of communities by partnering with governments, private sector, and development organisations to solve complex social issues. It has also gained the recognition of providing high-quality technical assistance to both national and state governments.
In October 2021, having completed 2 decades of successful contributions in the country, PCI India embarked on a new journey to reimagine itself and holistically reset its operating model. The step-up was inspired not only by the fast-changing external dimensions, but also the internal realisation to drive themselves into a futuristic organization. The idea was to bring in new thinking and approach to deepen its collaboration with governments, private sectors, and development organizations; create capabilities to address emerging social challenges and become more nimble-footed and agile in its way of working. With this, a new chapter was initiated for PCI India as a revitalised, rejuvenated and reimagined entity.
Today, India is at the cusp of a rapid socio-economic transformation. PCI India is actively participating in this evolution by driving active interventions that will transform the lives of communities at scale.
India – marching ahead to become a developed nation by 2047 – we are more ready than ever with a refreshed brand ethos and talent pyramid
The Government envisions India to become a developed nation by 2047. The new template for India@100 will necessitate many new areas of community support. PCI India envisages to continue being an integral part of the new India story.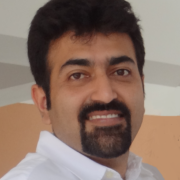 Mr. Indrajit- Chaudhuri
CEO & Country Director PCI India
"In the process of our evolution, we reached a point of realisation where we collectively envisioned PCI India as a future-oriented organisation that can adapt its structure, systems and ethos with the fast-changing, post-pandemic world"
The solid bold font used in the new logo is a sign of its courage and resolve to tackle complex social problems, while the use of small case signifies humility and respect – the two integral aspects of the values of PCI India.
Further, it bears the sign of infinity (with letters 'p' & 'c' connected in a loop), which signifies the endless possibilities for addressing complex social issues. It is also symbolic of unconditional faith in its vast potential, as well as a reminder to adapt & learn from the dynamic environment. The letter 'I' is topped by the shape of a blazing torch, signifying knowledge and underlines PCI India's renewed ambition to be a thought leader in every domain that it works in.
PCI India's new vision, mission, and core values are derived from our rich legacy while allowing us to accelerate the ambition to expand the scale of our work and the resulting impact. These will also help PCI India to reimagine and scale up its unparalleled technical capabilities to support governments at the national and state levels.
PCI India's new ambitious vision "A happy, healthy, safe and sustainable world for all" is its own humble attempt to contribute in the inspirational India@100 vision. While its new mission "Rooted in community realities, we co-create and scale sustainable solutions to complex development problems" provides a clear direction on the actions that the organisation is taking. Its core values–Excellence, Respect, Boldness, Collaboration, Creativity and Integrity  have been designed to steer collective actions and behaviours.
PCI India is poised to take an active role in making India future-ready. 
Organization Rebuilding – A timeline